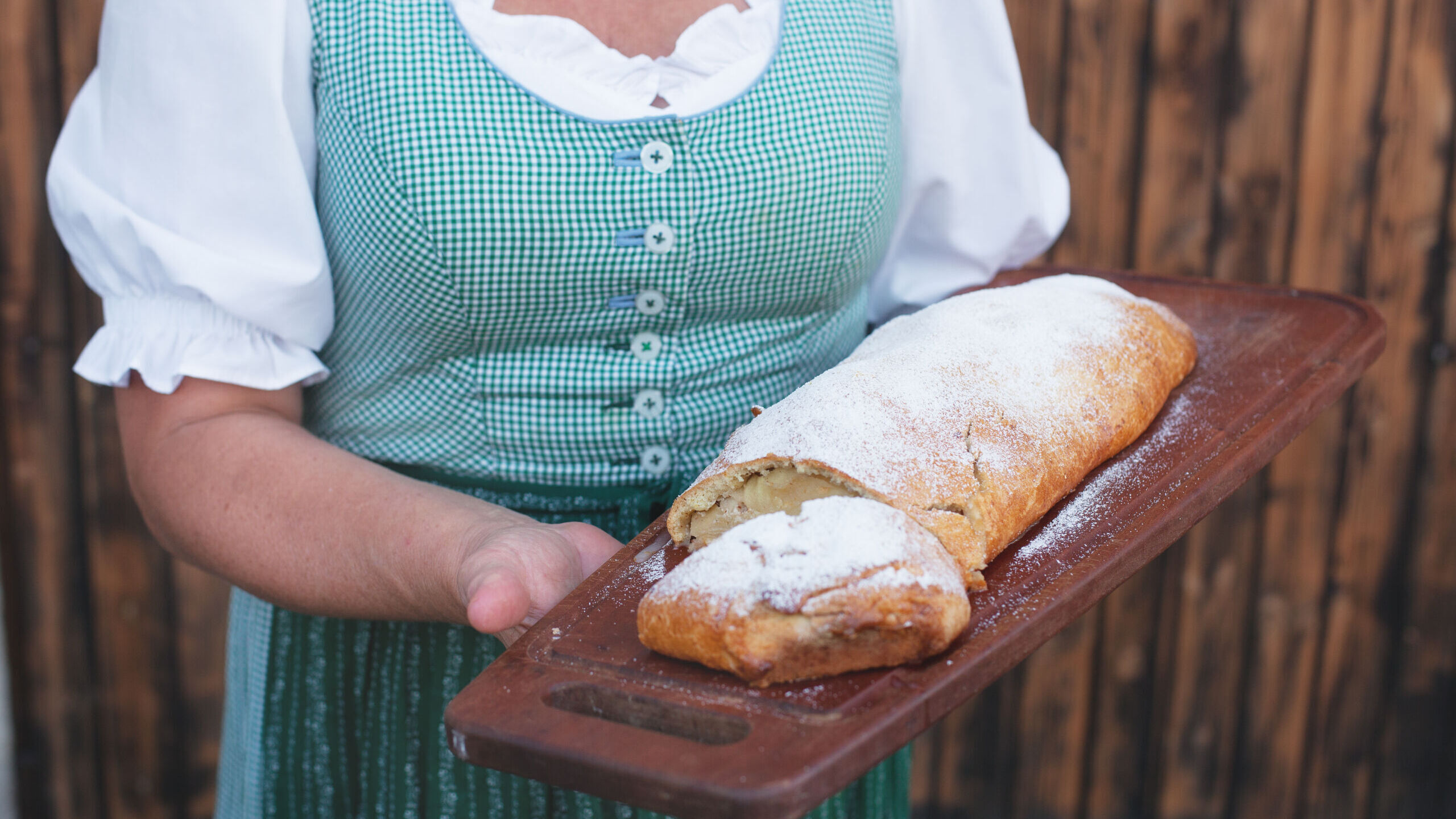 Easy Dolomites Hike & Taste
The breathtaking trails twist and turn among alpine meadows, towering peaks, and land of savory traditional dishes.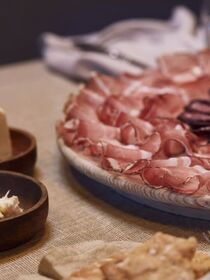 Destination

from Alta Badia to Cortina d'Ampezzo

Difficulty level

easy/intermediate

Length of days

4 nights/5 days

Self-guided

Departure dates

mid-June – end of September
Day 1
Arrival
Arrive in Alta Badia via private transfer or on your own. Check into your charming 3-star superior family-run hotel, where a tour briefing will be organized based on your arrival time.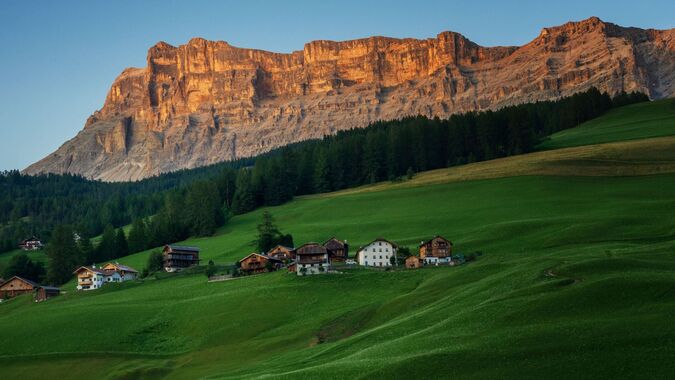 Day 2
Pralongia Plateau
Enjoy an easy hike on the Pralongia Plateau or, if you prefer, you can take the cable car. Stop for a break at a mountain hut to savor some local specialties while admiring the stunning view of the Marmolada Glacier, also called "The Queen of the Dolomites". The hiking time ranges from 1 to 5 hours, depending on the itinerary you choose. In the evening, for dinner treat your tastebuds at a typical Tyrolean farmhouse.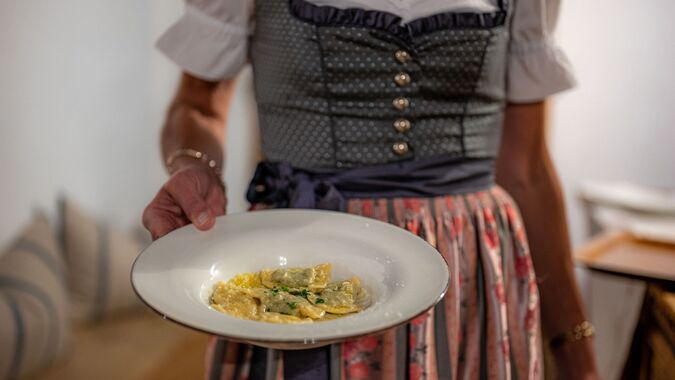 Day 3
WWI Area – overnight in a family-run Rifugio – Via Ferrata Option
This morning, reach the "World War I" site by private transfer. Explore the First World War open-air museum, including reconstructed trenches and the stunning landscape of the UNESCO Dolomite mountains surrounding you. You can visit the MMI museum as an option. The setting for your lunch will be the most beautiful panorama ever. In the afternoon, hike to the mountain inn where you will spend the night, or take the cable car for an easier alternative. Hiking time ranges from 1 to 5 hours, depending on the itinerary you choose.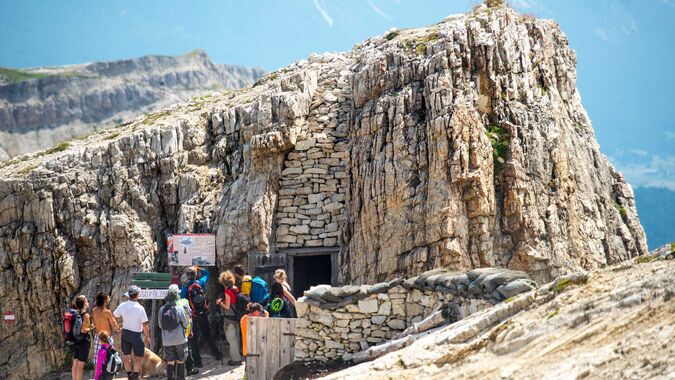 Day 4
Croda da Lago
After a memorable stay in the hut, pack your backpack and prepare for a new day of walking through meadows adorned with mountain flowers, with the stunning Tofana di Rozes, Cinque Torri, Averau, and Nuvolau mountains in the backdrop. Your final destination is a serene lake with crystal-clear water reflecting the magnificent surrounding peaks. Take a private transfer back to Cortina d'Ampezzo to conclude your adventure in the Dolomites.
hiking time: 3,30 hours length: 9,8 km
difference in level: +406 m/-1.001 m
highest point: 2.420 m lowest point: 1.694 m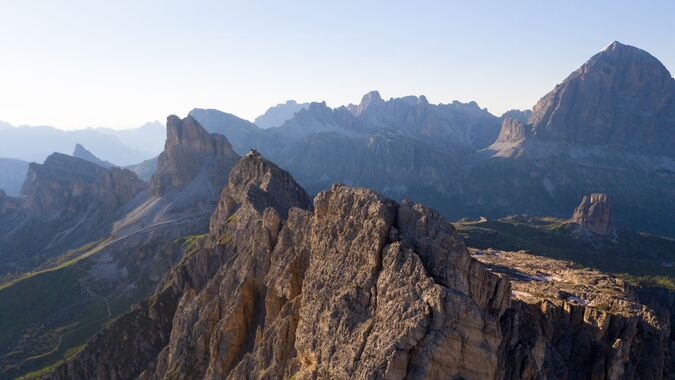 Day 5
Departure
On request, if you like you can add a few more days in Cortina d'Ampezzo visiting the stunning 3 Cime di Lavaredo or spending some days in an Italian city.
Breakfast and departure on your own - private transfer on request.
B, ...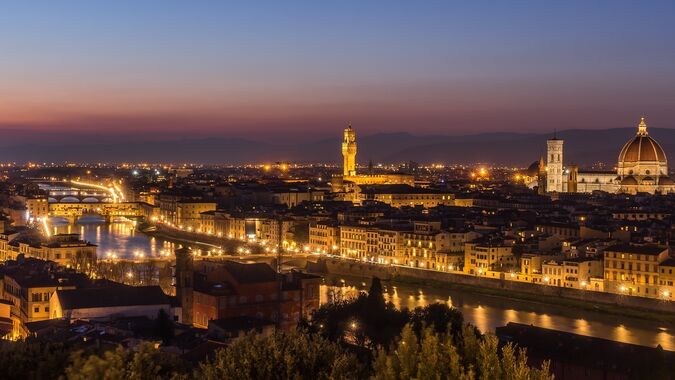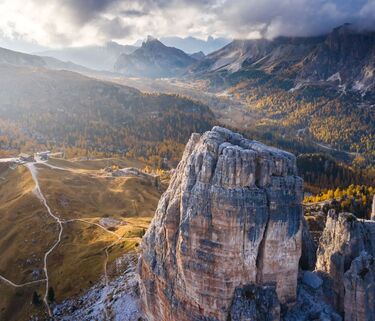 Costs included
Tailor-made trip organization
1-night accommodation at a mountain hut with breakfast (private rooms/dormitory depending on availability),
2-night accommodation at a Family run hotel with half-board
1-night accommodation at a Family run B&B with breakfast,
private transfers as per itinerary
your hiking map
Italian VAT and tourist taxes
Costs not included
Airfare, trains, public buses, insurance, drinks, lunches, dinners on days 3 & 4, food & beverage during the excursions, cable cars, museum entrance fees, local English-speaking guide (on request), in/out airport transfers (on request), holiday extensions, souvenirs, private expenses, tips and anything NOT mentioned in "costs included".
Additional information
Please note, that all guided tours may be subject to changes, depending on:
weather conditions
the physical condition of each participant
equipment and clothing not suitable for the excursion (e.g. sneakers instead of mountain boots, clothing not suited to the weather conditions...)
the itinerary doesn't include any travel or health insurance
Services on request
airport in/out transfers
holiday extensions
helicopter flights over the Dolomites
dinners at special locations
local English-speaking UIAGM/IFMGA professional mountain guide for a Via Ferrata day
single supplements at hotels/B&B/mountain huts
To extend your trip for more exploration of the Dolomites or other Italian cities, contact us!
From
840€
2 - 3 persons – starting at € 990,00
4 - 6 persons – starting at € 890,00
7 - 8 persons – starting at € 840,00

On request: Single supplement (if available)
Please note: in the high season period July & August the cost can raise between 6 – 12% of the given cost.
Find similar travels in the Dolomites
Unforgettable Adventure in the Dolomites
Traverse the Natural Park of Fanes-Sennes-Braies
Hiking in the Dolomites is an experience like no other, where you'll be surrounded by towering peaks, verdant valleys, and crystal-clear lakes.
Discover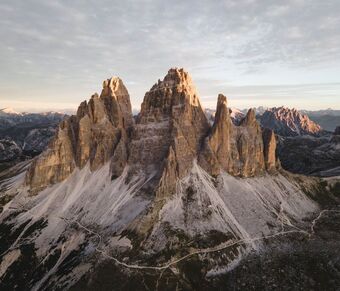 Explore the Dolomites, a UNESCO Heritage
Venturing into the UNESCO Dolomites
South Tyrol is a wonderful destination for anyone looking to experience the beauty of nature, sample delicious cuisine, and soak up the local culture and hospitality.
Discover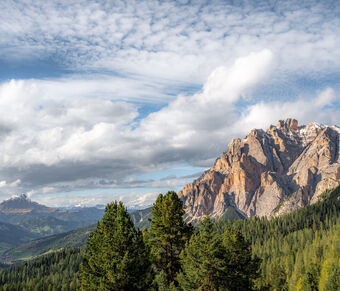 Dolomites photography tour
Capture the Dolomites with Photographer Marc Nouss
Join our photography workshop instructed by renowned French photographer Marc Nouss and explore the stunning and well-known locations of the Dolomites through the lens of your camera!
Discover