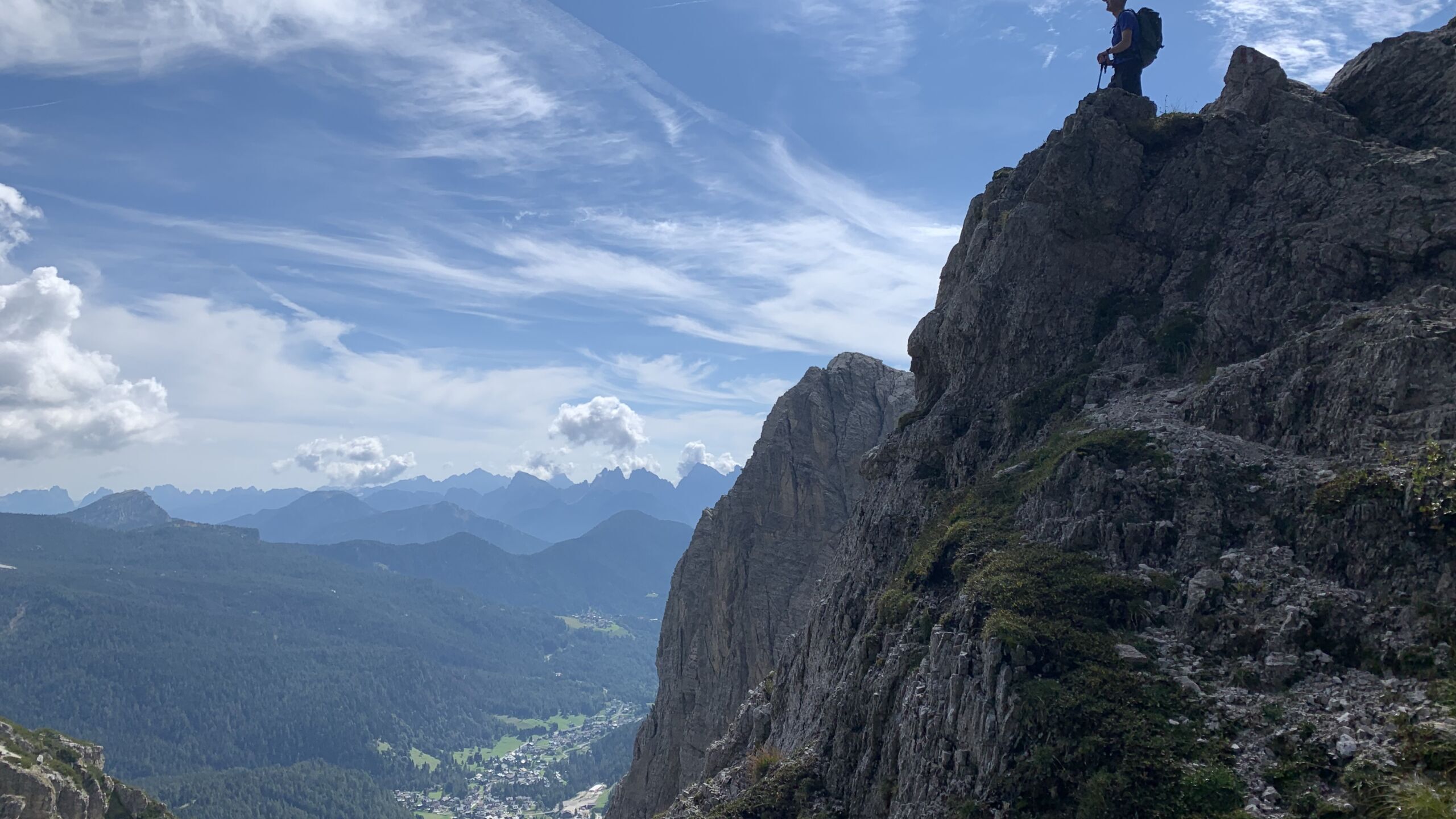 Exciting loop hike on Mount Civetta
The Dolomites, a UNESCO Site since 2009, are a masterpiece of nature that extends over an area of 142,000 hectares of unparalleled beauty.
Destination

Dolomites - Mount Civetta

Difficulty level

intermediate/difficult

Duration

5 nights/6 days

Bespoke trip & group departure

Guided

Departure dates

mid-June - mid-end September

Group departure

dates 17.07.2023 & 28.08.2023
Day 1
Arrival at Alleghe Lake
Upon your arrival in Alleghe, you will check into your hotel and have the opportunity to explore the charming village. Alleghe is known for its stunning location overlooking a small, natural lake at the foot of the Belluno Dolomites. The lake is a popular spot for fishing, kayaking, and paddle boarding, and offers breathtaking views of the surrounding mountains.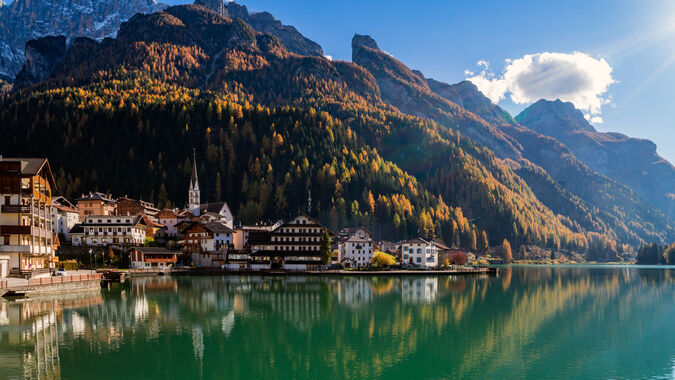 Day 2
Escursione sul Monte Civetta
Meet your UIAGM/IFMGA professional mountain guide for a short briefing and start your hiking day. Ascending the Civetta Valley to 2,250 meters is an unforgettable experience that offers stunning views of the Dolomites, a UNESCO World Heritage Site.
Overnight stay in a local family-run mountain hut.
hiking time: 3,40 hours
length: 6 km
difference in level: + 1.200 m difference in level: - 100 m
highest point: 2.175 m lowest point: 982 m
Day 3
Ferrata Alleghesi
Begin with a hike on the Tivan trail to the Via Ferrata Alleghesi starting point. The trail is challenging and scenic, offering breathtaking views of the surrounding mountains. Ascend on the Via Ferrata Alleghesi to reach the summit of Mount Civetta at 3,220 meters after a thrilling and demanding climb of about 3.5 hours. Spend the night just below the summit, at 2,984 meters, for a spectacular view of the Dolomites and a sunset that will be etched in your mind forever. It's an unforgettable way to experience the natural beauty of this region.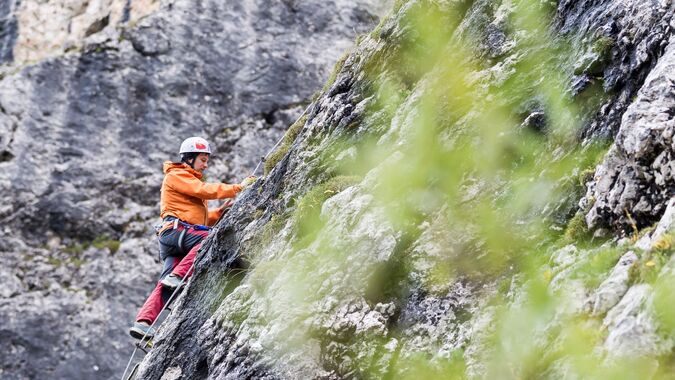 Day 4
Ferrata Tissi
After breakfast, your guide will take you on the Tissi Ferrata, offering stunning views of the surrounding mountainous landscape. After completing the route, you will walk back to Alleghe and arrive in the afternoon. If you wish to extend your stay, we can arrange an additional overnight stay in the village or another hidden corner of the Dolomites. Let us know your preferences and we will tailor your itinerary accordingly.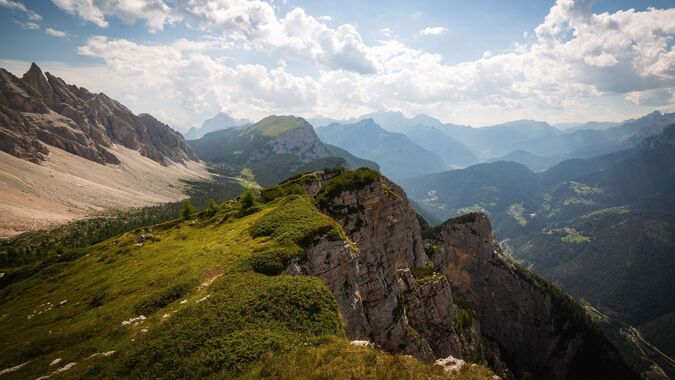 Costs included
Trip development and booking of services
Trip briefing on arrival day
Local English-speaking UIAGM/IFMGA professional mountain guide for 3 guided days,
1 night accommodation a 3*Family run B&B at Alleghe Lake with breakfast,
2-night accommodation at mountain huts (private/shared dormitory – depending on availability) with half-board,
Via Ferrata equipment
map of the area
Italian VAT & tourist taxes
Costs not included
Airfare, trains, busses, additional private transfers in the area, insurance, drinks, lunches, dinners (except at the mountain huts), food & beverage during the excursions, funicular/cable, tips, private expenses, souvenirs, bike rental and anything NOT mentioned in "costs included".
Additional information
Please note, that all guided tours may be subject to changes, depending on:
weather conditions
the physical condition of each participant
equipment and clothing not suitable for the excursion (e.g. sneakers instead of mountain boots, clothing not suited to the weather conditions...)
extreme sports are risky sports, at your own risk
the itinerary doesn't include any travel or health insurance
Services on request
airport in/out transfers,
holiday extensions,
helicopter flights over the Dolomites
dinners at special locations
single supplements at hotels/B&B/mountain huts
For any further requests, do not hesitate to contact us!
From
1120€
Cost per person:
2 persons – on request
3 persons - € 1.260,00
4 persons - € 1.120,00

Guide ratio 1:4 – for medium Via Ferrata
Guide ratio 1:3 – for difficult Via Ferrata

Please note: in the high season period July & August the cost can raise between 6 – 12% of the given cost.
Find similar travels in the Dolomites