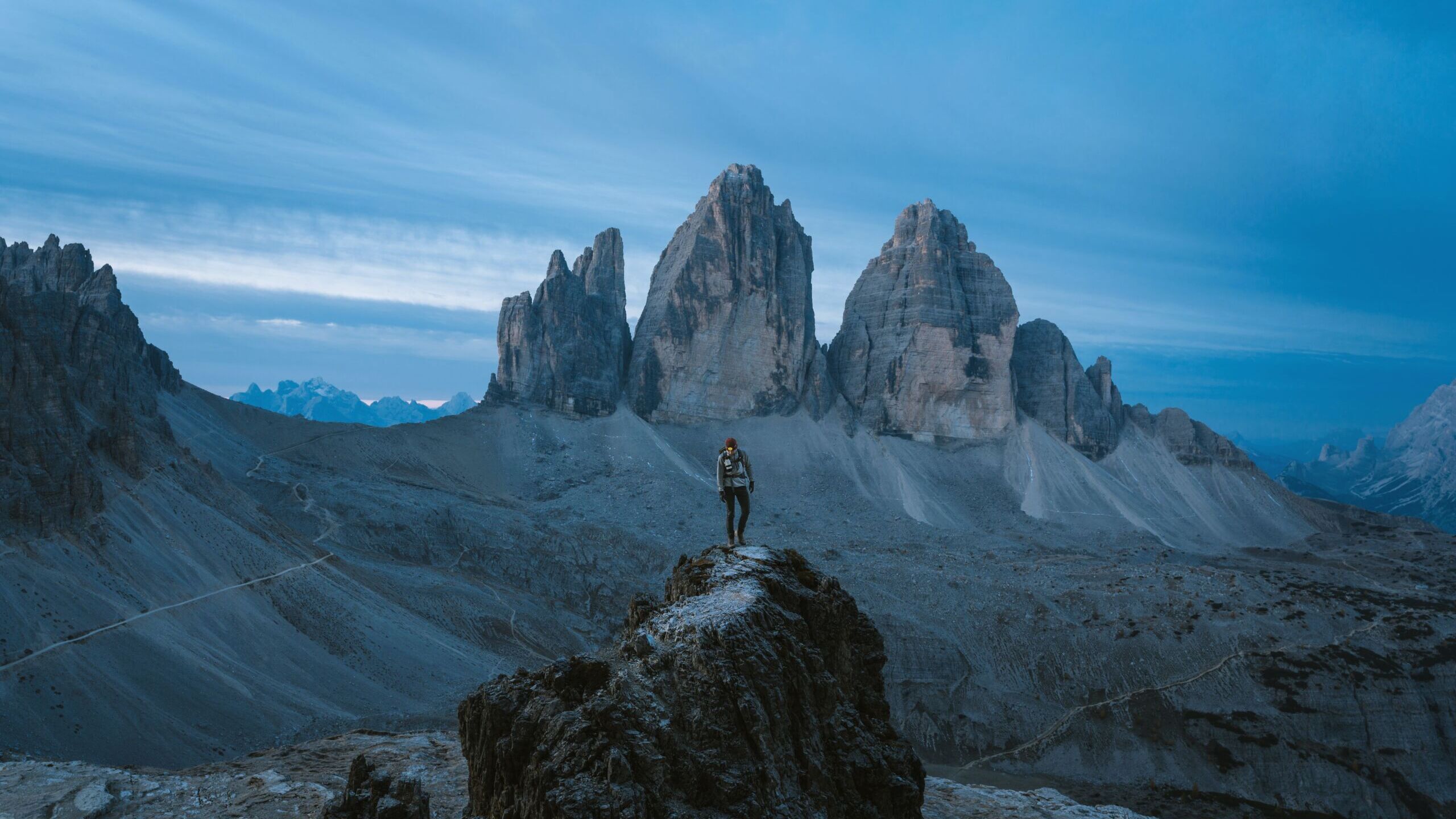 Explore the Tre Cime and the Alta Via no. 1 trail
Imagine being surrounded by mountains and immersed in nature, away from everything. In this place of peace, you will feel recharged in spirit.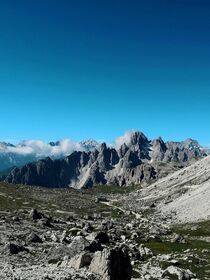 Destination

3 Cime di Lavaredo – Cortina

Difficulty level

intermediate

Duration

8 nights/9 days

Departure dates

mid-June – end of September
Day 1
Arrive in the Dolomites
Arrive in the Dolomites on your own (private transfer on request) and check into your hotel. Based on your arrival time we will arrange the trip briefing.
3* family run hotel in Alta Pusteria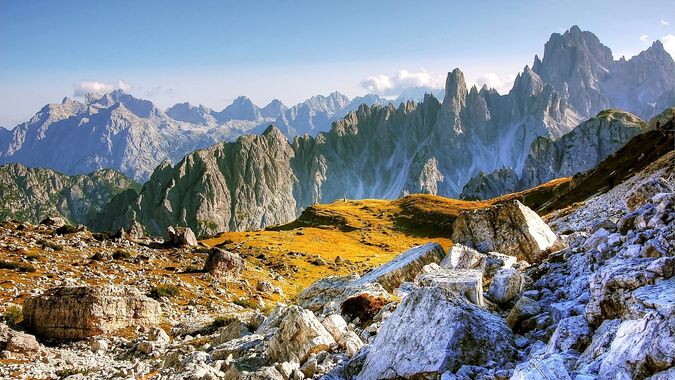 Day 2
Tre Cime di Lavaredo Natural Park
Embark upon your adventure with a short bus ride to the starting point of your hike in 3 Cime Natural Park, a vast area spanning over 11,000 hectares across three different urban districts. The park boasts breathtaking Dolomite peaks, including the iconic 3 Cime di Lavaredo, which have been attracting mountaineering pioneers since the late 1800s. Even today, climbers from all over the world come to scale these rocks. Once you arrive at the hut, drop off your backpack and explore the stunning surroundings with additional hikes.
hiking time: 3 hours
length: 7,7 km difference in level: + 425m / -544m
highest point: 2.564 m
lowest point: 2.214 m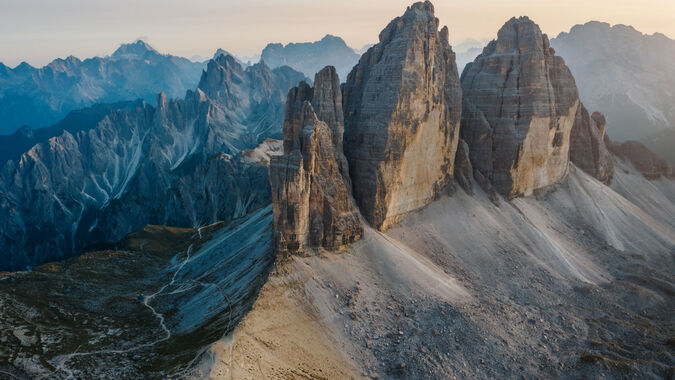 Day 3
Tre Cime di Lavaredo
The Three Peaks of Lavaredo, a natural wonder of the Dolomites, attract visitors from all over the world. These iconic limestone rock formations include the towering Cima Grande at 2999 m, Cima Ovest at 2973 m, and Cima Piccola at 2857 m. In the afternoon, you will arrive at a peaceful mountain lake, where you can unwind and enjoy the peaceful atmosphere.
hiking time: 5 hours
length: 14,1 km
difference in level: + 422m / -1.237m
highest point: 2.564m
lowest point: 1.394m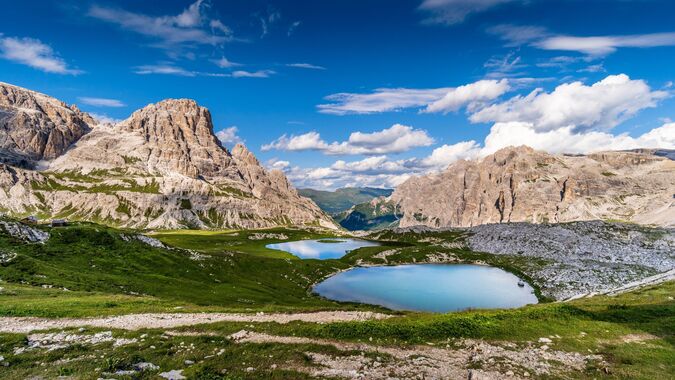 Day 4
Strudelkopf
Begin your day with a refreshing hike through the forest. The shaded trees will make it easier to reach the summit on warmer days. As you ascend to an altitude of 2,000 meters, a plateau will emerge, providing stunning panoramic views of the Cristallo, Croda, Rossa d'Ampezzo, Dolomites of Braies, and Tre Cime di Lavaredo mountain groups. Once you arrive at the hut, continue your adventure by hiking up to the highest peak, which towers at 2,839 meters, and offers breathtaking vistas of the surrounding landscape.
hiking time: 4 hours
length: 10,2 km difference in level: + 965 m / - 359m
highest point: 2.301 m lowest point: 1.394 m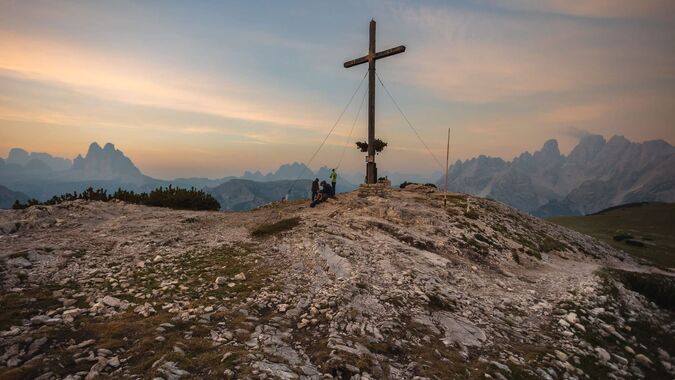 Day 5
Natural Park of Sennes Braies
Covering approximately 25,680 hectares, the Fanes-Senes-Braies natural park is one of South Tyrol's largest protected areas. This park is home to the famous Alta Via delle Dolomiti no. 1 trail. The breathtaking turquoise Braies Lake, located in the heart of the Dolomites, is a must-see attraction, often featured in films due to its enchanting location.
hiking time: 6,5 hours
length: 16,8 km 
difference in level: + 1.049 m / - 916 m
highest point: 2.387 m lowest point: 1.494 m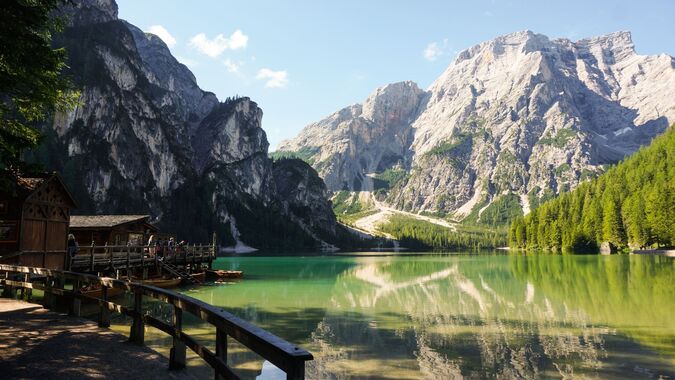 Day 6
Natural Park of Sennes Braies – hiking traverse
Begin your traverse from the scenic Sennes Plateau, adorned with rare high mountain flowers and the cheerful whistling of marmots, and commence your traverse of the natural park. Every step offers a new breathtaking panorama, and you're bound to discover places that will etch a lasting impression in your memory.
hiking time: 3-4 hours 
length: 10,4 km
difference in level: + 572 m / - 644 m
highest point: 2.134 m lowest point: 1.539 m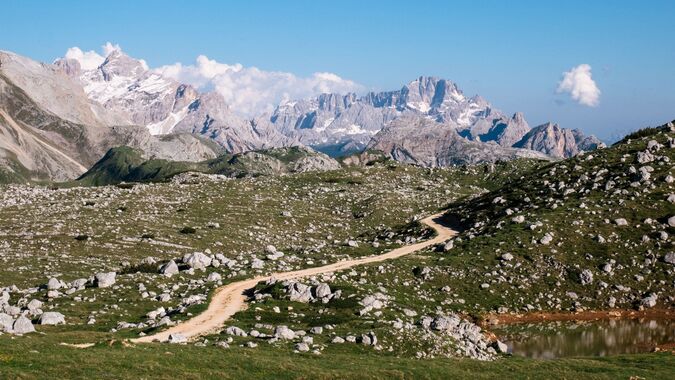 Day 7
World War I area
Begin your day by strolling through a stunning valley enveloped by lush greenery. Depending on the season, you may encounter cows and horses grazing on these beautiful meadows during summer, or see them returning to their village farms in autumn. Halfway through, ascend to a mountain pass, and admire the breathtaking panorama from the top. Climb to the summit at 2,752 meters above sea level, which is the most challenging route but incredibly rewarding. If you prefer an easier path, we can offer alternative options upon request.
hiking time: 5.30 hours
length: 12,7 km
difference in level: + 1.112 m / - 435 
highest point: 2.711 m lowest point: 2.013 m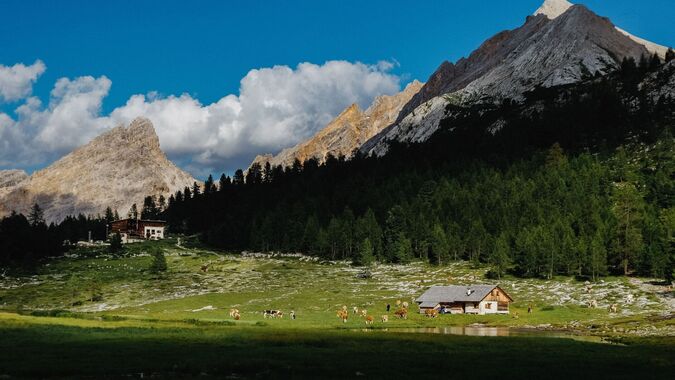 Day 8
Cortina d'Ampezzo
Today, hike through the World War I trenches, where you can admire the stunning mountains that envelop the town of Cortina d'Ampezzo, set to host the Olympic Games in 2026. In the afternoon, you will reach a magnificent turquoise lake nestled amidst the mountains and the forest. You can soak your feet in the cold water and benefit from it. Although your tour adventure in the Dolomites is coming to an end, additional days on the famous Alta Via No. 1 trail can be arranged upon request.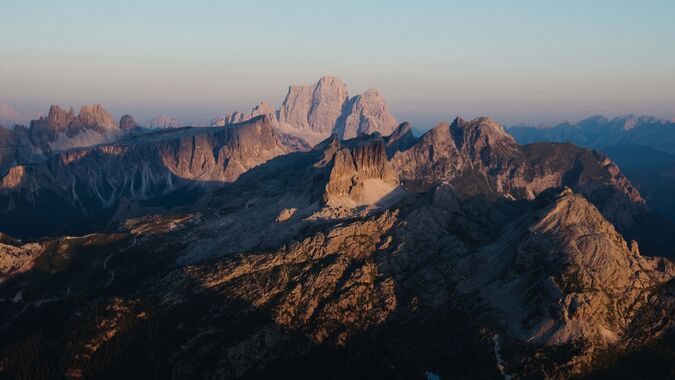 Day 9
Departure
Breakfast and departure on your own or extend your stay and discover more of the UNESCO Dolomites. Contact us for further information!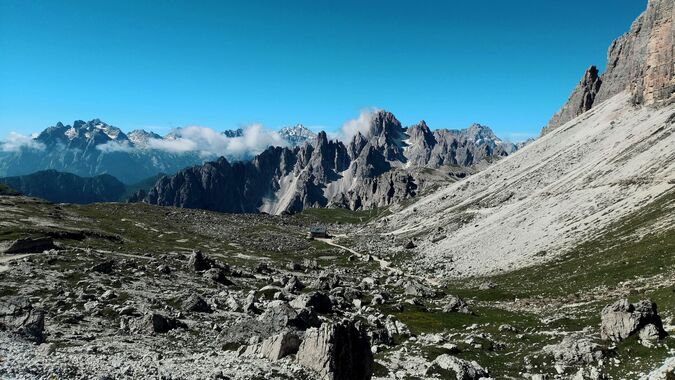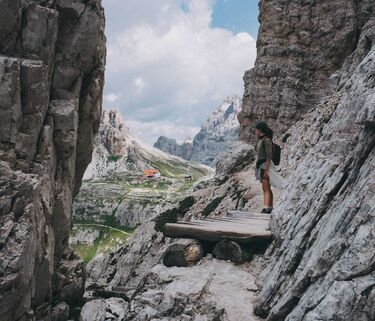 Costs included
Trip development and booking of hotels & mountain huts
Trip briefing on arrival day
1-night accommodation in a 3* Hotel in Cortina d'Ampezzo with breakfast
2-night accommodation in a 3* Family run Hotel in Alta Pusteria with half-board
5-night accommodation at mountain inns (private/shared rooms– depending on availability)
private transfer back to Cortina on your last hiking day
Hiking maps
Italian VAT & tourist taxes
Costs not included
Flights, trains, buses, private in & out airport transfers, additional transfers not mentioned in the itinerary or mentioned as "on request", no luggage transfers (on request), professional hiking guide, insurance, tips, drinks, lunches, food & beverage during the excursions, dinner in Cortina d'Ampezzo, holiday extensions, souvenirs, cable cars, , private expenses and anything NOT mentioned in "costs included".
Additional information
Please note, that all guided tours may be subject to changes, depending on:
weather conditions
the physical condition of each participant
equipment and clothing not suitable for the excursion (e.g. sneakers instead of mountain boots, clothing not suited to the weather conditions...)
the itinerary doesn't include any travel or health insurance
Services on request
private in & out airport/train transfers
holiday extensions,
helicopter flights over the Dolomites
the trip can also be organized as a guided trip
luggage transfer on request
single supplements at hotels/B&B/mountain huts (if available)
From
1590€
Cost per person for a self-guided trip:
min. 2 persons: starting from € 1.590,00/person

Please note: in the high season period July & August the cost can raise between 6 – 12% of the given cost.
Find similar travels in the Dolomites