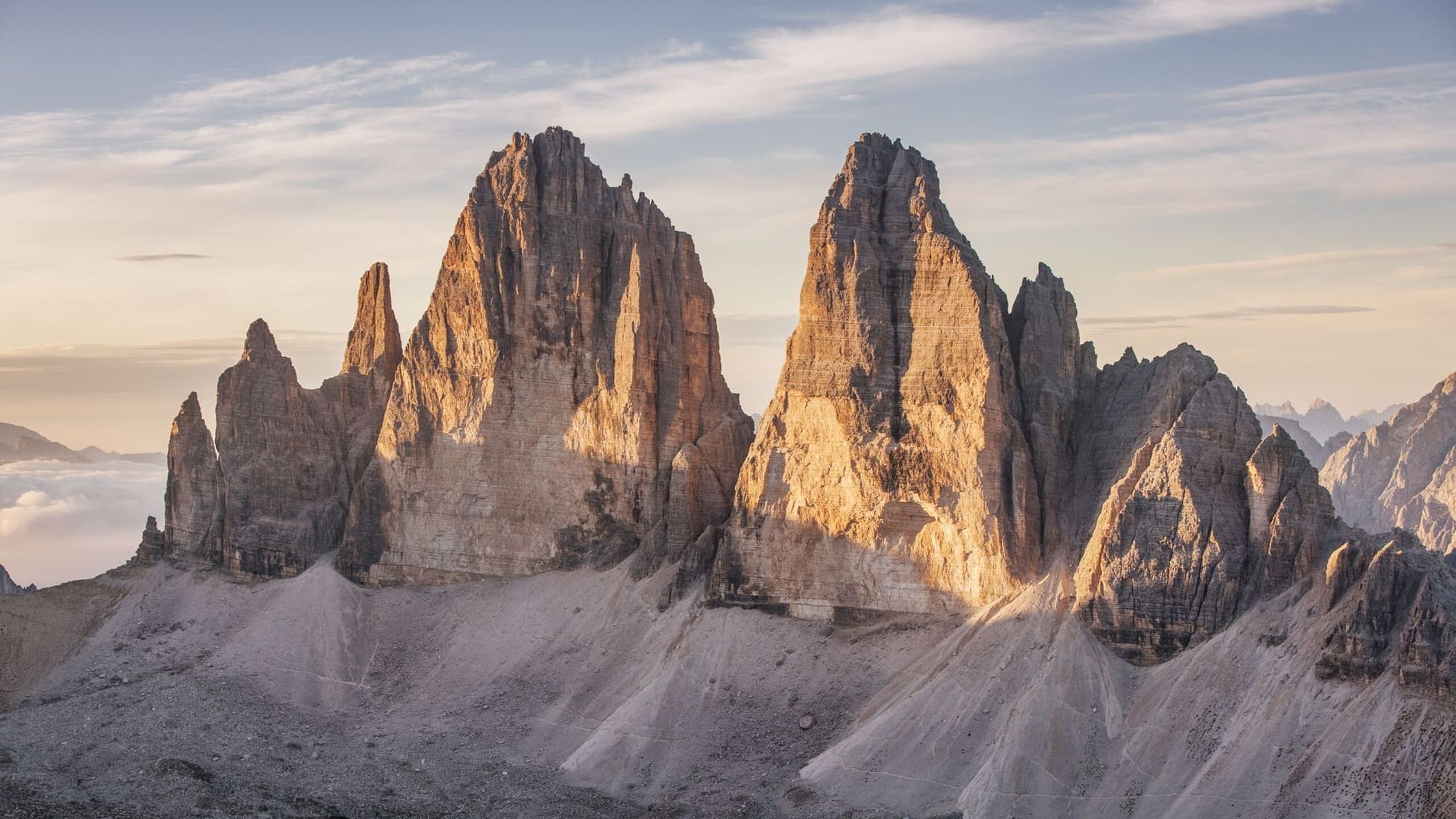 Exploring the Val Pusteria in an eco-friendly manner
Minimize your environmental impact and contribute to a more sustainable future for everyone.
Destination

Val Pusteria

Difficulty level

easy/intermediate

Duration

6 nights/7 days

Self-guided (or guided on request)

Departure dates

mid-June – end of September
Day 1
Arrival
Arrive on your own to Alta Pusteria. Depending on your arrival time at the airport, we will provide you with instructions on how to use public transportation to reach your hotel.
Day 2
Strudelkopf
Start your Dolomite hiking adventure by taking a public bus after breakfast, and head towards one of the popular summits in the region, such as Strudelkopf. During your hike, you'll be treated to breathtaking views of the surrounding mountains, and the pastures you'll cross will greet you with an array of beautiful wildflowers. At the very top of Strudelkopf, 2307 meters above sea level, you could see the famous Tre Cime di Lavaredo. After spending some time at the summit. Make your way back down the summit and cross the valley in a loop. But before reaching the end of your hike, take a break at one of the mountain huts and indulge in the locals' favorite strudel. Where better to enjoy it than at the foot of Strudelkopf!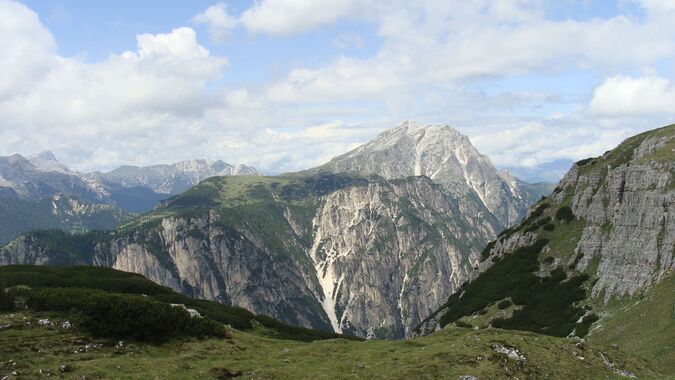 Day 3
Ampezzo Natural Park
Embark on a journey to explore the Natural Park of the Ampezzo Dolomites today. Keep an eye out for the Sempervivum Dolomiticum, a rare endemic plant that is the symbol of this park, as you hike along. You'll also be treated to stunning views of waterfalls and the Boite River, and have a chance to enjoy a picnic lunch at a typical mountain hut. On your way back down, take a different path that includes a short crossing of a steep slope. However, this path leads to the most picturesque viewpoints of the surrounding mountains and valleys one can ask for! After the hike, take a bus to Cortina d'Ampezzo and explore this charming town on your own before heading back to the hotel by bus.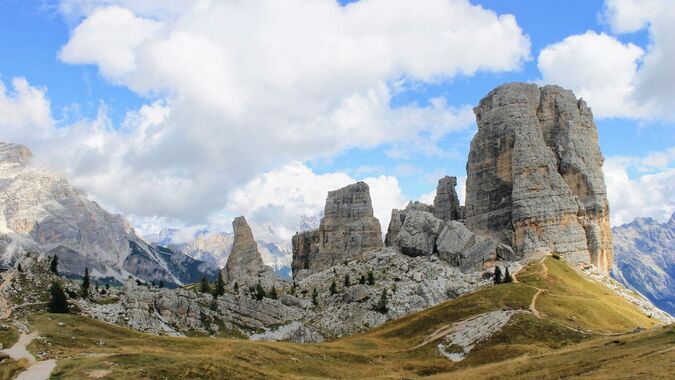 Day 4
Tre Cime di Lavaredo circumnavigation
This morning, head to the entrance of the '3 Peaks Natural Park'. The 3 Cime di Lavaredo mountains are the symbol of the Dolomites and a natural masterpiece that was declared a UNESCO World Heritage site in 2009, along with the other peaks of the Dolomites.

hiking time: 3,30-4,00 hours
length: 9,7 km
difference in level: + 410 m/ - 403m
highest point: 2.451 m lowest point: 2.170 m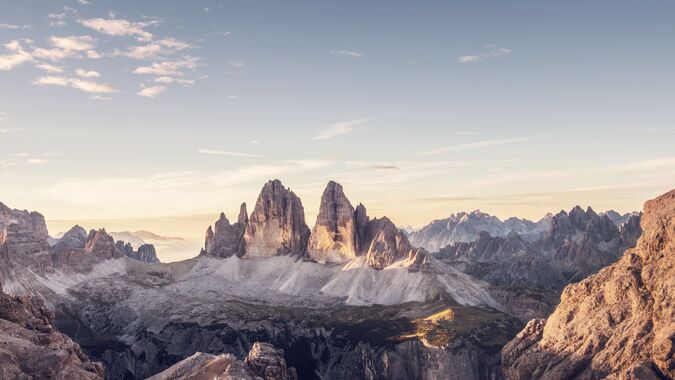 Day 5
Earth Pyramids of Platten
Take a bus or train to reach the starting point for your hike to the unique Earth Pyramids of Platten, which are over 25,000 years old. These naturally formed earth towers are Europe's tallest and most perfectly shaped pyramids. After taking some photos at this incredible site, head back down to catch a local bus to Brunico, a charming small town, where you can spend some time wandering through the quaint shops of the old city center. Finally, take the train or bus back to your hotel.
Day 6
Monte Elmo
Take a short train and cable car ride to enjoy breathtaking views on your way to the starting point of today's hike, a relatively short but challenging trek up Monte Elmo. At the top, you will be greeted with breathtaking views, and you'll also have the opportunity to cross the Italian-Austrian border, which runs directly through the summit point. You are free to enjoy the rest of the afternoon at your leisure before leaving the beautiful Dolomites behind.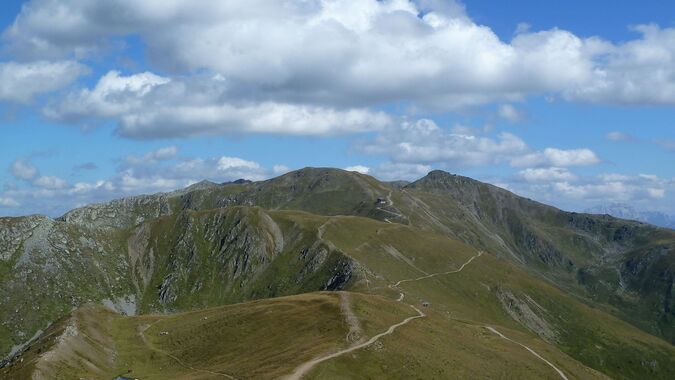 Day 7
Departure
Breakfast and departure on your own. If needed, we can provide you with complete information regarding the public transportation timetable upon request.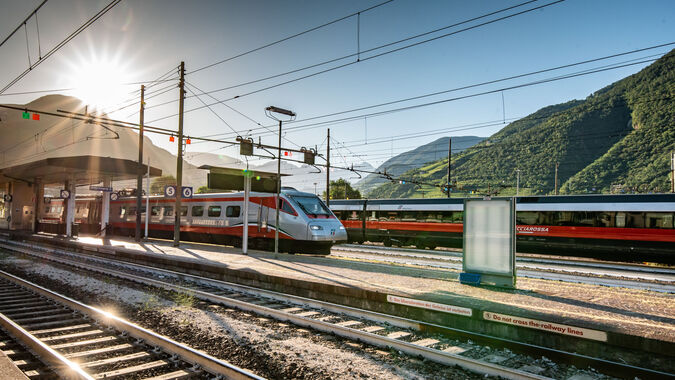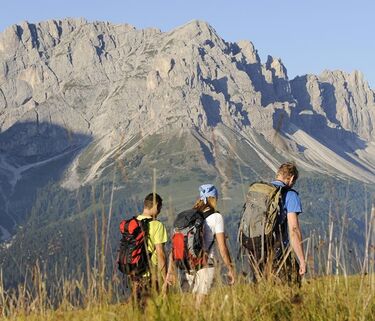 Costs for the guided trip include
- itinerary development and reservation of services as per the itinerary above
- trip briefing and hiking maps
- 6-night accommodation at a 3* Family run hotel in Val Pusteria with half-board
- trains and bus ticket
- cable car to Monte Elmo
- apple strudel taste
- local English-speaking hiking guide for 5 days
- Italian VAT and tourist taxes
Costs not included
Airfare, train & buses, except the transportation during the guided days, cable cars, insurance, tips, drinks, lunches, food & beverage during the excursions, holiday extensions, souvenirs, private expenses, and anything NOT mentioned in "costs included".
Additional information
Please note, that all guided tours may be subject to changes, depending on:
weather conditions
the physical condition of each participant
equipment and clothing not suitable for the excursion (e.g. sneakers instead of mountain boots, clothing not suited to the weather conditions...)
the itinerary doesn't include any travel or health insurance
Services on request
in-out private airport transfers,
holiday extensions,
single supplements at hotels/B&B
From
2280€
Cost per person for a guided trip:
2 persons on request
3 – 5 persons: starting at € 2.680,00
6 – 8 persons: starting at € 2.280,00

Cost per person for a self-guided trip: starting from € 1.380,00 (min 2 persons)

Please note: in the high season period July & August the cost can raise between 6 – 12% of the given cost.
Find similar travels in the Dolomites