Venturing into the UNESCO Dolomites
Best easy hike in the Dolomites with amazing views!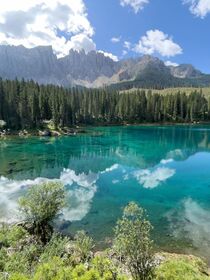 Destination

from Alta Pusteria to Alpe di Siusi

Difficulty level

easy/intermediate

Duration

6 nights/7 days

Bespoke trip & group departure

Guided

Departure dates

mid-June – end of September

Group departure

dates 29.06.2023 & 14.09.2023 – other dates on request
Day 1
Arrival to Alta Pusteria
The Alta Pusteria Valley is known for its picturesque villages where you can feel the unique blend of Italian and Austrian cultures that is characteristic of the South Tyrol region and its natural beauty and fresh mountain air are indeed the perfect backdrop for a healthy and invigorating getaway.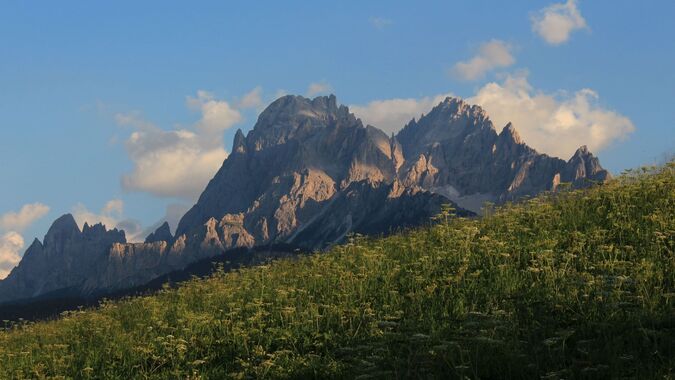 Day 2
Val Pusteria
In the morning, let's visit Lago di Braies, which is probably one of the most beautiful backdrops in South Tyrol. Don't miss the chance to rent a rowing boat and enjoy the breathtaking view from the water! In the afternoon, you will visit the beautiful village of San Candido, with its Collegiate Church, considered the most important Romanesque monument in Tyrol.
Day 3
Tre Cime di Lavaredo circumnavigation
Today, with private transfer, reach the gate of the "3 Peaks Natural Park", the 3 Cime di Lavaredo in Italian. These are probably the most iconic and recognizable peaks in the Dolomites because of their striking appearance, the stunning panoramic views, and the beautiful turquoise crystal-clear waters and mountain lakes that you will discover during your journey.
hiking time: 3,30-4,00 hours - length: 9,7 km - difference in level: + 410 m/ - 403 m
Day 4
Val d'Isarco – St. Magdalena
Today, you will travel to the Eisack Valley (Valle Isarco in Italian). It is a picturesque valley located in the northernmost part of the South Tyrol region. It has plenty of charming towns and villages rich in history and culture, as well as a popular destination for wine tasting and culinary tourism, because of its vineyards, which are some of the highest in South Tyrol. After lunch, visit the small village of San Magdalena and its church which is situated against the towering Dolomite mountains.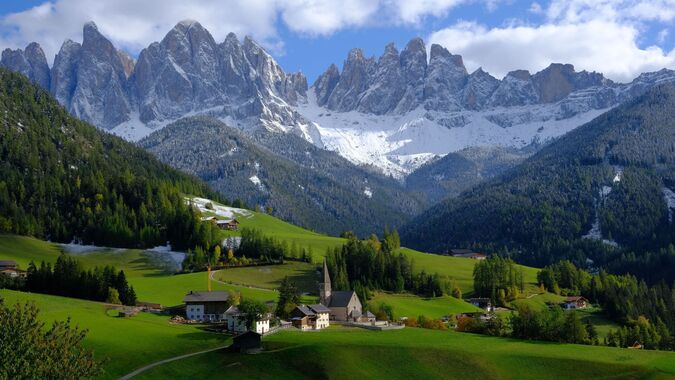 Day 5
Hiking at the Lago di Carezza
The Dolomites are renowned for their exceptional natural beauty, and the 1.45-hour drive through the mountain passes is for sure a spectacular and unforgettable experience. Hiking enthusiasts flock to Lake Carezza for its stunning scenery, including the iconic turquoise-colored lake. The area is steeped in local legends that have been passed down for generations, adding to its allure as a must-visit destination for anyone seeking breathtaking vistas and outdoor adventure.
Day 6
Alpe di Siusi, the biggest Europe plateau
With over 790 species of flowers and ferns, 56 square kilometers of Europe's largest mountain plateau, and 300 days of sun, Alpe di Siusi offers stunning views of the incredible mountain peaks and blossoming mountain meadows. Take the time to appreciate this natural beauty by stopping along your hike. It includes a stop in a typical village of Val Gardena.
Day 7
Departure
Leave the Dolomites with sights seen in your eyes and memories in your heart.
Should you wish to extend your trip to include a few extra days exploring the Dolomites or any other Italian city, please don't hesitate to contact us.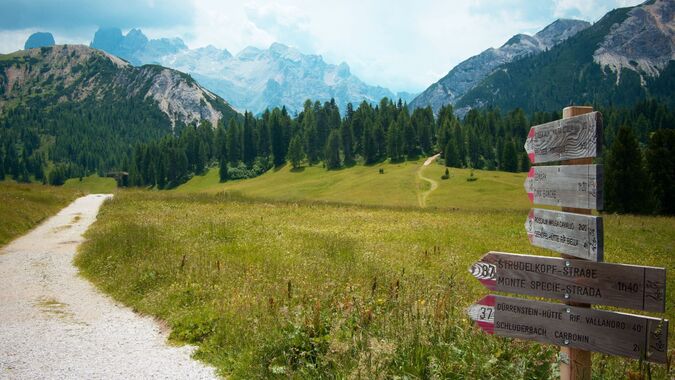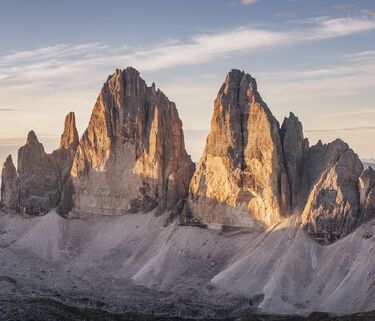 Costs included
Tailor-made trip organization
6-night accommodation at a 3* Family run hotel in Val Pusteria & Val d'Isarco with half-board in double/twin rooms
private transfers as per itinerary
cable car on Alpe di Siusi
entrance fee at the church
local English-speaking hiking guide for 5 days
Italian VAT and tourist taxes
Costs does not include
Airfare, trains, public buses, insurance, tips, drinks, lunches, food & beverage during the excursions, boat at Lago di Braies, holiday extensions, souvenirs, private expenses, and anything NOT mentioned in "costs included".
Additional information
Please note, that all guided tours may be subject to changes, depending on:
weather conditions
the physical condition of each participant
equipment and clothing not suitable for the excursion (e.g. sneakers instead of mountain boots, clothing not suited to the weather conditions...)
the itinerary doesn't include any travel or health insurance
Services on request
airport in/out transfers,
holiday extensions,
helicopter flights over the Dolomites
dinners at special locations
wine tasting
visit to a WWI bunker
visit to an artisan dairy
single supplements at hotels/B&B/mountain huts
If you have any additional requests, feel free to ask. We are always here to assist you further.
From
2260€
min 4 persons - price starting at € 2.780,00/person
5 – 10 persons - price starting at € 2.360,00/person
12 – 15 persons - price starting at € 2.260,00/person

On request: Single supplement
Please note: in the high season period July & August the cost can rise between 6 – 12% of the given cost.
Find similar travels in the Dolomites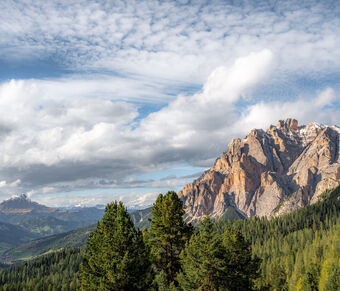 Dolomites photography tour
Capture the Dolomites with Photographer Marc Nouss
Join our photography workshop instructed by renowned French photographer Marc Nouss and explore the stunning and well-known locations of the Dolomites through the lens of your camera!
Discover
Dolomites, an hiking wonderland in Italy
Easy Dolomites Hike & Taste
Hiking in the Dolomites is a truly unforgettable experience. Located in the northeastern part of Italy, the Dolomites are a part of the Southern Limestone Alps, known for their breathtaking landscapes and stunning views.
Discover
Unforgettable Adventure in the Dolomites
Traverse the Natural Park of Fanes-Sennes-Braies
Hiking in the Dolomites is an experience like no other, where you'll be surrounded by towering peaks, verdant valleys, and crystal-clear lakes.
Discover