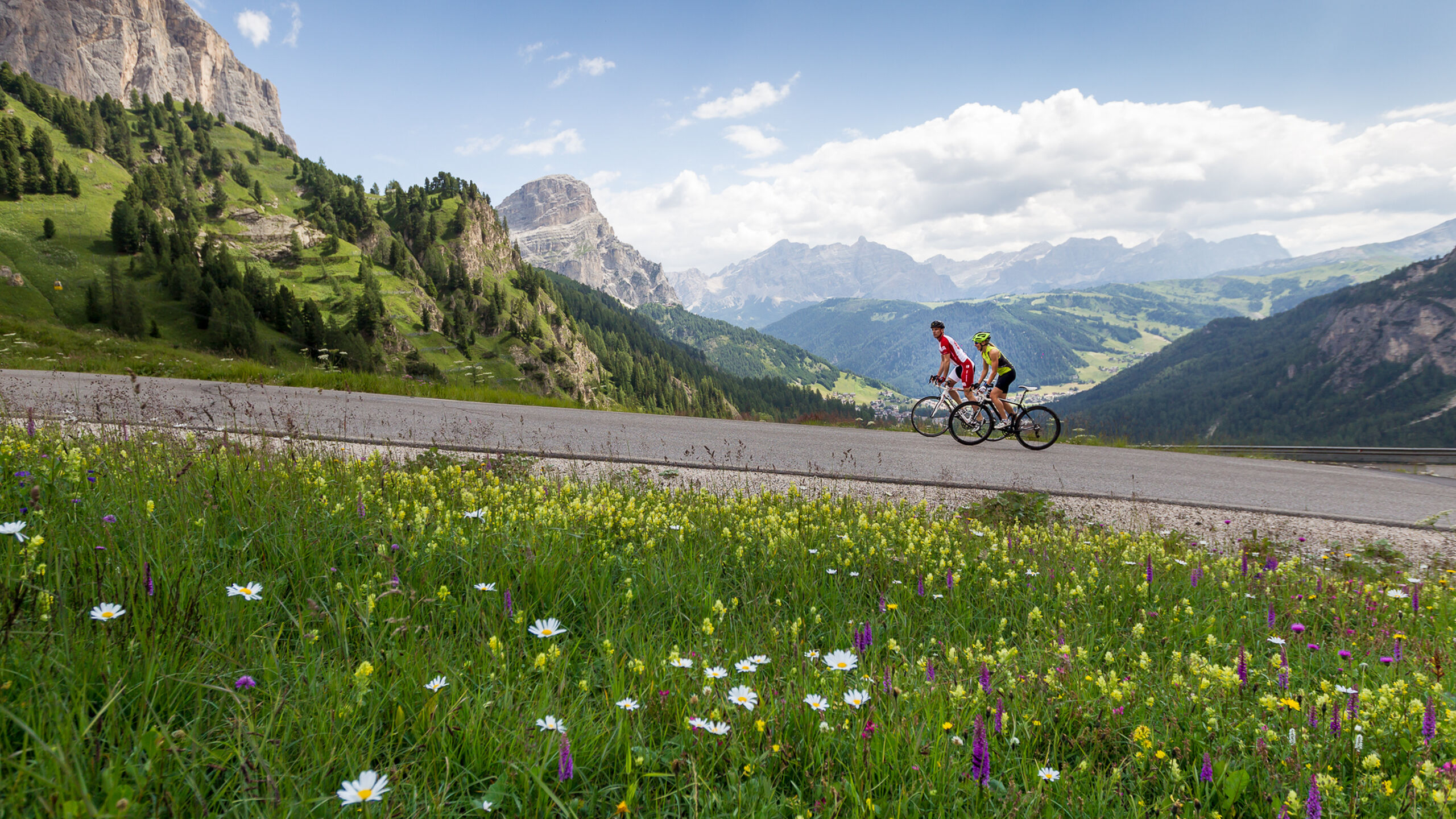 Enchanting Dolomites Loop adventure
Starting from Vittorio Veneto, you'll journey through winding mountain roads, passing by charming alpine villages and breathtaking vistas.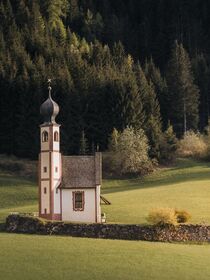 Destination

Vittorio Veneto - Dolomites

Difficulty Level

Difficult

Duration

8 nights/9 days

Guided tour

Departure dates

June – September
Day 1
Arrival to Vittorio Veneto
Arrive on your own and check in to your cozy B&B (option of a private transfer upon request. Vittorio Veneto is not only famous for its picturesque charm but also for its significant role in World War I. Explore the town's fascinating history through its stunning palaces, monuments, and charming stone streets. Immerse yourself in this must-visit destination and witness the beauty and heritage that make Vittorio Veneto truly unforgettable.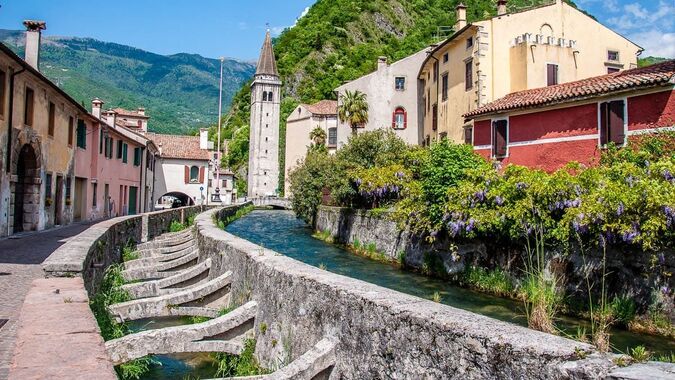 Day 2
Pale di San Martino mountains
Start your day cycling on a scenic road with minimal traffic to the mountain lake, Lago Mis. This hidden gem is cherished by locals, offering an authentic Italian experience. Your journey continues towards the mountains, leading you to the oldest town in Primiero. Explore the village's charm, adorned with sacred images and fresco wall paintings on the facades of houses from various historical periods.
cycling time: 5 hours
length: 79,10 km
difference in level: + 2150 m, difference in level: - 1.470 m
highest point: 1.380 m, lowest point: 150 m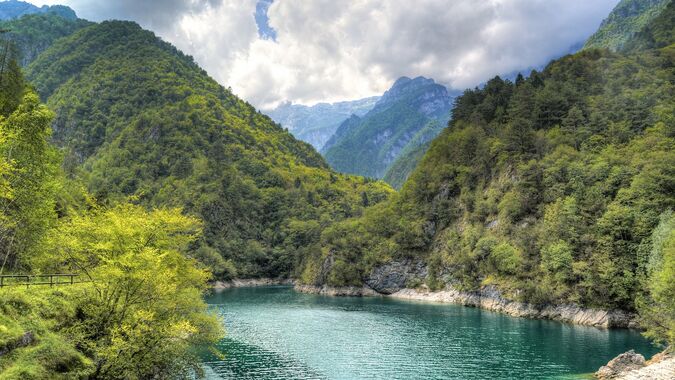 Day 3
Dolomites – Val di Fassa
Embark on a captivating cycling journey to Passo Rolle, nestled within the breathtaking Natural Park of Paneveggio. Descend into the enchanting Val di Fiemme and continue your adventure to the renowned Val di Fassa, home to the majestic Dolomites. These iconic peaks, including the Sella Group, Sassolungo, and Catinaccio Group, have achieved UNESCO World Heritage Site status since 2009. Don't miss the opportunity to witness the awe-inspiring Marmolada, famously known as "the Queen of the Dolomites," standing tall at an impressive height of 3,343 meters.
cycling time: 5 hours
length: 67,3 km
difference in level: + 2.440 m,  difference in level: - 1.910 m
highest point: 2.030 m, lowest point: 750 m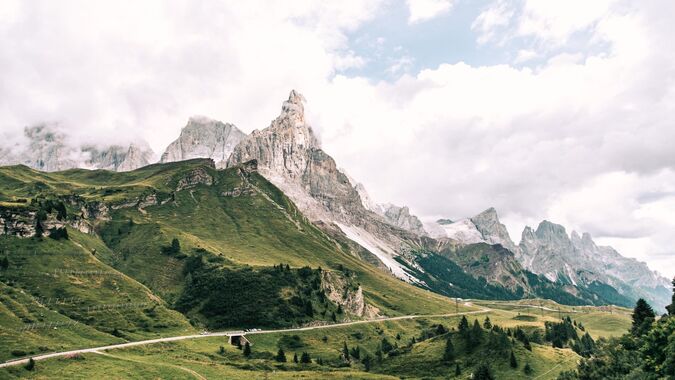 Day 4
Val d'Isarco
Indulge in a hearty breakfast before setting off on a memorable bike ride to the captivating Lago di Carezza. Continue your journey to Passo Nigra, where you'll be rewarded with breathtaking views of the lake and the majestic Rosengarten massif if the weather permits. Along the way, take a moment to visit the beautiful Chapel of San Cipriano and soak in its serene atmosphere. Finally, arrive at the charming Isarco Valley, where you can immerse yourself in the local culture and unwind with a relaxing evening.
cycling time: 5 hours
length: 68 km
difference in level: + 2.570 m, difference in level: - 1.530 m
highest point: 1.980 m, lowest point: 540 m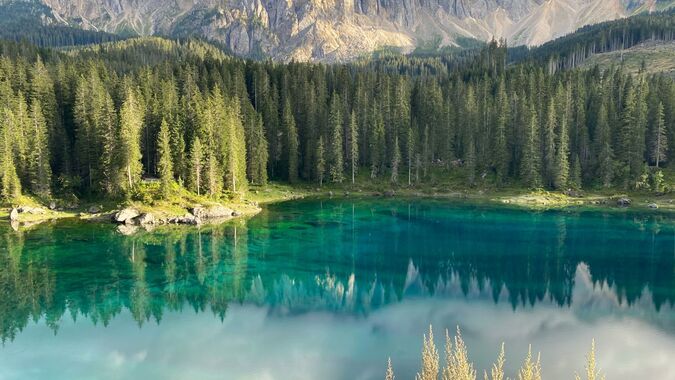 Day 5
Dolomites - Arabba
Explore the beautiful Val di Funes, located in the heart of South Tyrol, which boasts breathtaking natural beauty and attractions that are well worth a visit. Visitors can marvel at the stunning views from several lookout points, including the churches of St. Magdalena and St. Johann. If you're feeling adventurous, take the mythical climb through Passo delle Erbe and reach Arabba, where you'll be rewarded with even more spectacular scenery.
cycling time: 5 hours
length: 68 km
difference in level: + 2.570 m,  difference in level: - 1.530 m
highest point: 1.980 m,  lowest point: 540 m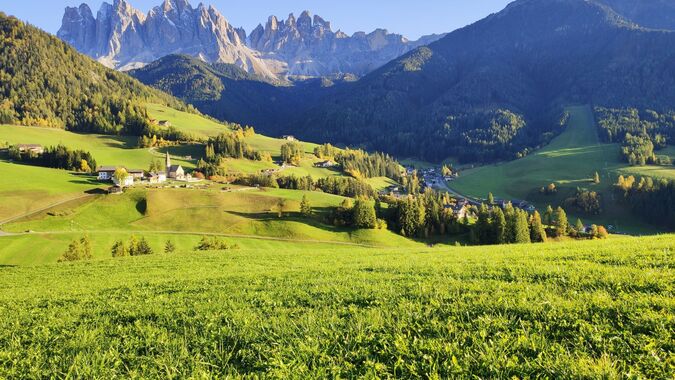 Day 6
Dolomites – Arabba - Longarone
The imposing "Buchensteintal barrier," consisting of the towering peaks of Ruaz and Corte, was a significant obstacle during the I World War that drove the Italian forces to strategically retreat towards the east, exploring the smaller Lagazuoi or Col di Lana. The Passo di Falzarego, which connects Andráz in the Cordevole Valley to the popular Cortina d'Ampezzo in the eastern Dolomites, offers an exhilarating descent. The 16-kilometer journey features a delightful mix of curves, serpentines, and high-speed sections, with sensational views of the landscape.
cycling time: 5 hours
length: 97 km
difference in level: + 1.860 m,  difference in level: - 2.990 m
highest point: 2.100 m,  lowest point: 440 m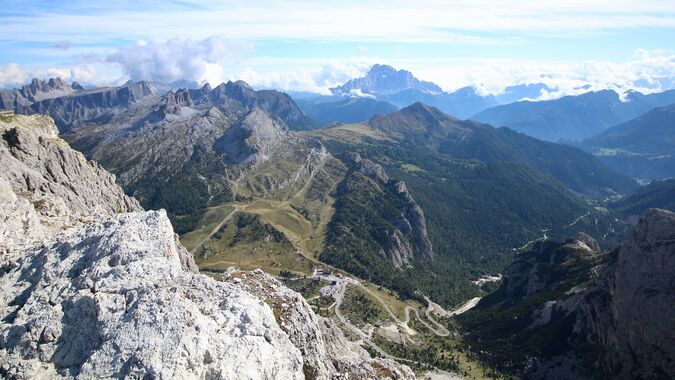 Day 7
Piancavallo
For cycling enthusiasts, the passage over Barcis Lake on the way to Piancavallo is a must-try experience. The journey is nothing short of breathtaking, with stunning views of the lake and the surrounding mountains. As you cycle along, you'll be treated to a plethora of natural beauty, including verdant forests and lush meadows. The route is suitable for both novice and experienced cyclists, with plenty of rest stops along the way. Whether you're a seasoned athlete or a novice cyclist, this route promises to be an unforgettable experience.
cycling time: 4.30 hours
length: 72 km
difference in level: + 2.040 m, difference in level: - 1.230 m
highest point: 1.270 m,  lowest point: 160 m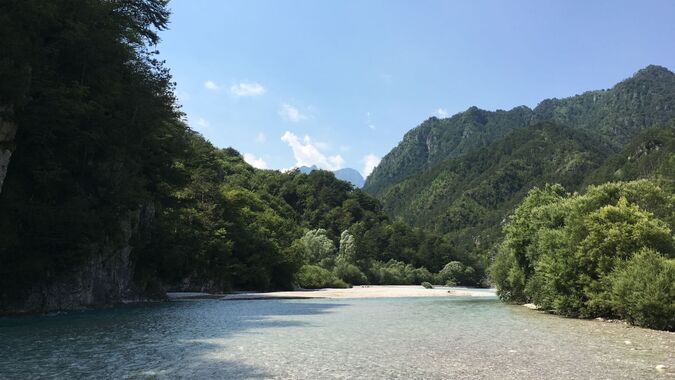 Day 8
Back to Vittorio Veneto
As a cycling enthusiast, you can't miss the Bivio Strada dei Carbonai route. The gentle climb immerses you in a fairytale setting, with stunning views of the surrounding mountains and countryside. The route leads to the Crosetta Pass and Passo San Boldo, known for its winding roads through galleries. The journey will be an unforgettable experience, with plenty of opportunities to take in the natural beauty of the area. Finish your cycle tour in Vittorio Veneto, a charming town located at the foot of the Alps.
cycling time: 5.30 hours
length: 100 km
difference in level: + 1.810 m,  difference in level: - 2940 m
highest point: 1.530 m,  lowest point: 130 m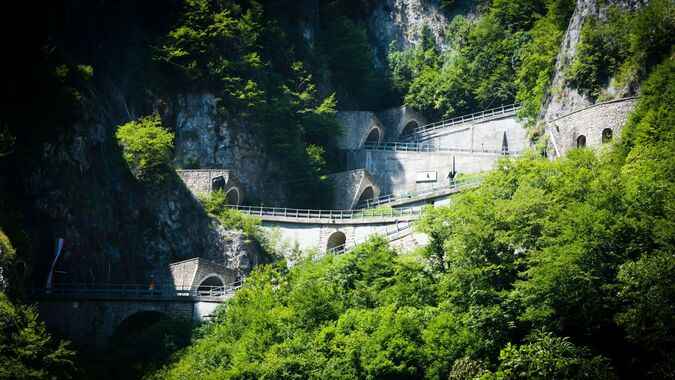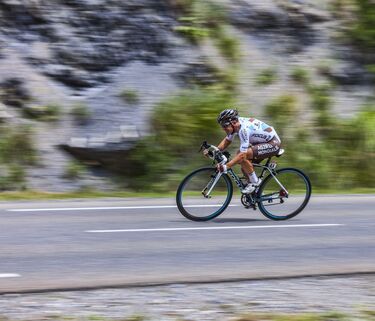 Costs included
Trip development and booking of services
Trip briefing on arrival day
8-night accommodation at a 3* hotels/B&B with breakfast
Local English-speaking professional bike guide for 7 guided days
Luggage transfers
Maps of the area
Italian VAT & tourist taxes
Costs not included
Airfare, trains, buses, insurance, drinks, lunches, food & beverage during the excursions, funicular/cable, tips, bike rental, private expenses, souvenirs, bike rental and anything NOT mentioned in "costs included".
Additional information
Please note, that all guided tours may be subject to changes, depending on:
weather conditions
the physical condition of each participant
equipment and clothing not suitable for the excursion (e.g. sneakers instead of mountain boots, clothing not suited to the weather conditions...)
extreme sports are risky sports, at your own risk
the itinerary doesn't include any travel or health insurance
Services on request
airport in-out transfers,
bike rental
holiday extensions,
helicopter flights over the Dolomites
dinners at special locations
single supplements at hotels/B&B/mountain huts
From
2990€
Cost per person for a Guided Trip:
4 persons - € 3.890,00/person
5 - 8 persons - € 3.590,00/person
9 -12 persons - € 2.990,00/person

Please note: in the high season period July & August the cost can raise between 6 – 12% of the given cost.
Find similar travels in the Dolomites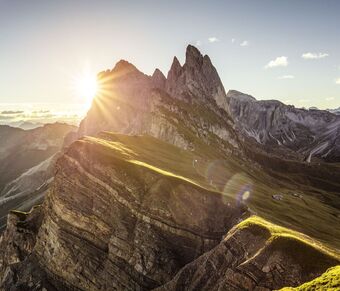 Never say 'no' to adventures!
Your Ultimate Experience in the Dolomites
In this part of northern Italy, you shall find a new perspective on life. The extraordinary blend of Italian, Ladin, and German culture is reflected in traditions, food, and culture. But above all, the mountains and lakes will delight your eyes.
Discover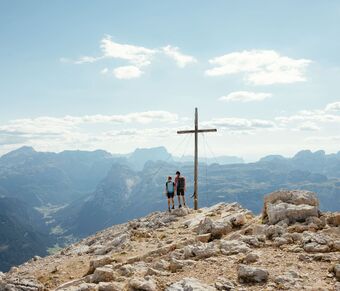 A challenge a day, drives fear away!
Extreme Active Challenge Tour
Break free of routines, and live adventure! Fly, navigate, climb, challenge limits, and rediscover instinct. The Dolomites are freedom!
Discover