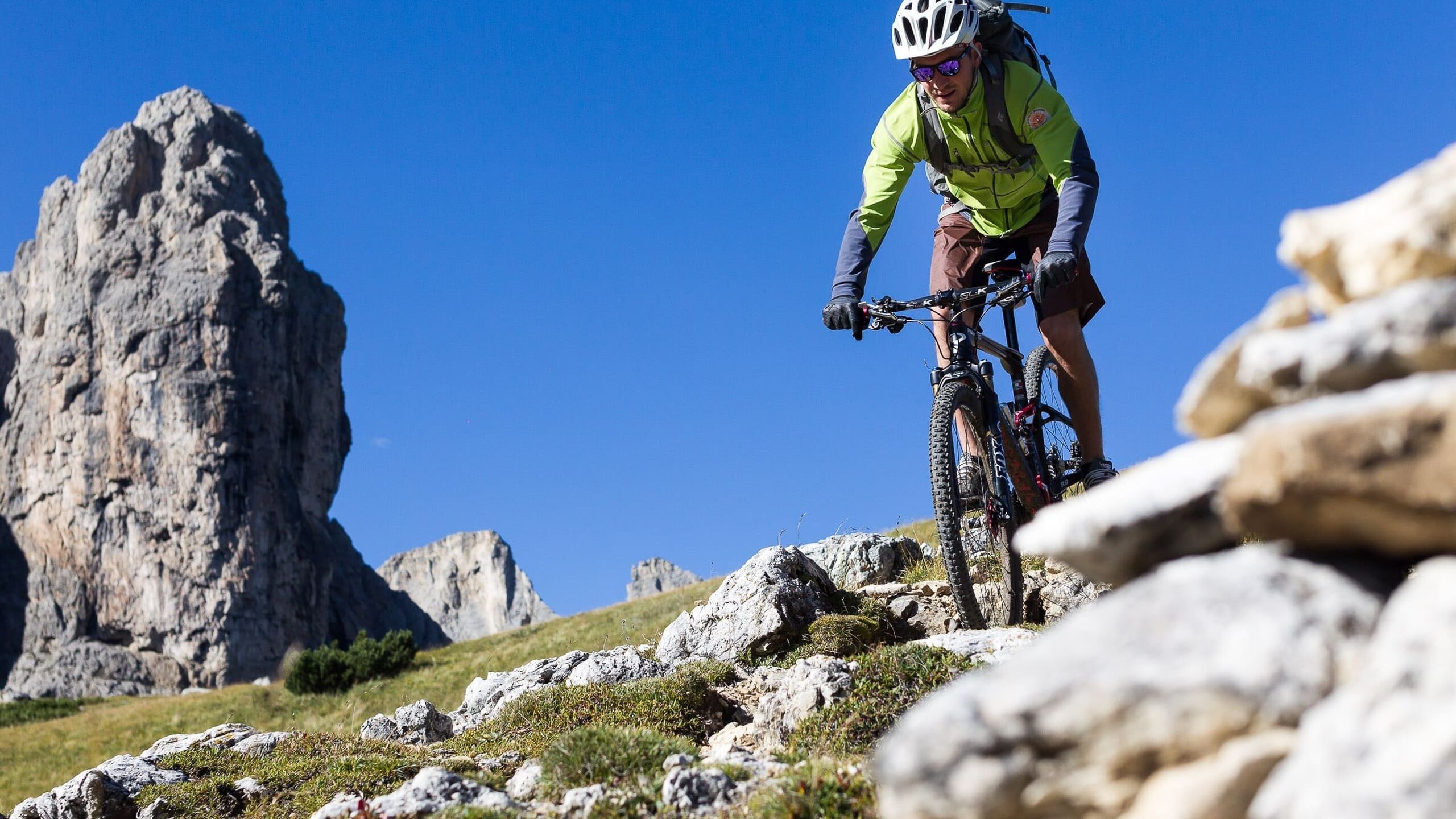 Dolomites Mountain Bike Traverse
Perfect for experienced mountain bikers who are comfortable riding long distances with significant elevation gain.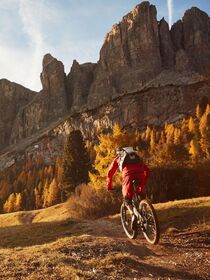 Destination

Val Badia, Puez-Odle, Fanes-Sennes-Braies, Dolmiti d'Ampezzo

Difficulty level

difficult

Duration days

7 nights/8 days

Guided trip

Arrival dates

mid-June – mid-October
Day 1
Arrival
Upon arriving in the Dolomites, you'll check into your hotel in Alta Badia (airport transfers on request). After settling in, you'll meet your mountain bike guide for a trip briefing and equipment check. The perfect way to start your Dolomites Mountain Bike Traverse adventure is an evening welcome dinner with your guide. It's an opportunity to get to know your guide while enjoying the delicious regional cuisine and wine.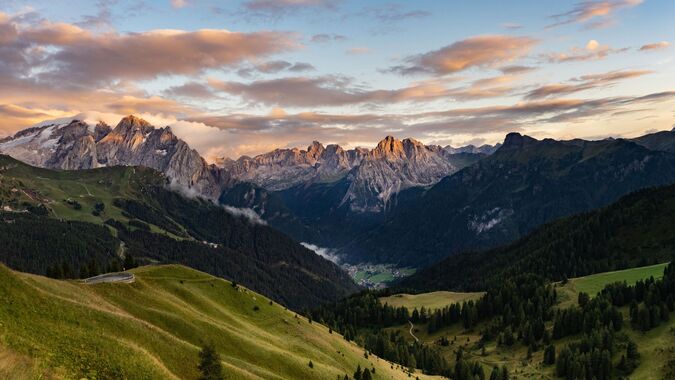 Day 2
The Sellaronda
The perfect kick-off for your week in the Dolomites starts with this fantastic mountain bike tour that takes you around the Sella Massif, offering breathtaking views of the mountains from every angle imaginable. In the winter, this is a popular tour for skiers and is considered one of the most popular ski tours in the world.
As you ride the lifts to the top of each pass and descend to the valleys below, you'll be covering many historical grounds. Nowadays, this modern-day carousel connects four stunning Dolomite passes and four Ladin valleys, including Val Gardena, Alta Badia, Val di Fassa, and Livinallongo, spanning three distinct districts. On this tour, you'll have the opportunity to see more of the Dolomites in one day than many see on an entire trip!
6 hours biking, 58km / 36 miles, 3,400m/ 11,154'
elevation change via cycling and lifts, 2 hours lift rides
Day 3
Pütia Massif
Head toward the beautiful village of Longiaru, situated at 1,398 meters in the middle of the Puez Odle Nature Park. Not only has the village retained its original appearance, but it is also a living witness to the ancient Ladin way of living. It still upholds many of the Ladin customs, traditions, and the old traditional farmhouses called 'viles' and water mills. After leaving Longiarù, you'll climb two more passes: Passo Goma and Passo delle Erbe, at 2,006 meters.
3 hours biking, 30 km / 19 miles, 1,600m
/ 5,249' elevation change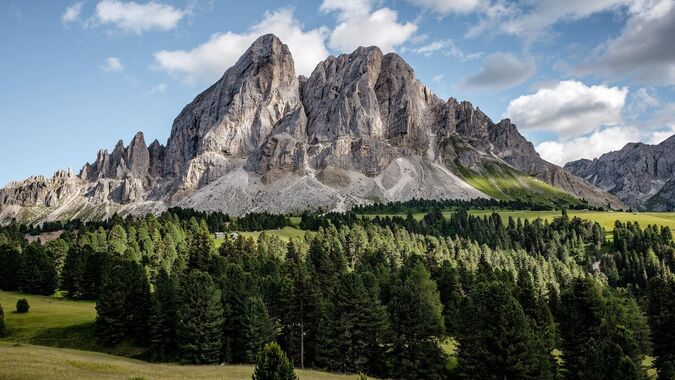 Day 4
Passo delle Erbe – Rifugio Fanes
Cycle to San Vigilio, passing by the villages of San Martino and La Val – descent to San Vigilio and enter the Natural Park of Fanes-Sennes-Braies, one of the largest Natural Parks in the region, extending across a surface of 25,680 hectares, located entirely within the Dolomites. Last ascent to your home for the night in the middle of the Natural Park.
6 hours biking, 42km / 26 miles, 1,700m/ 5,577' elevation change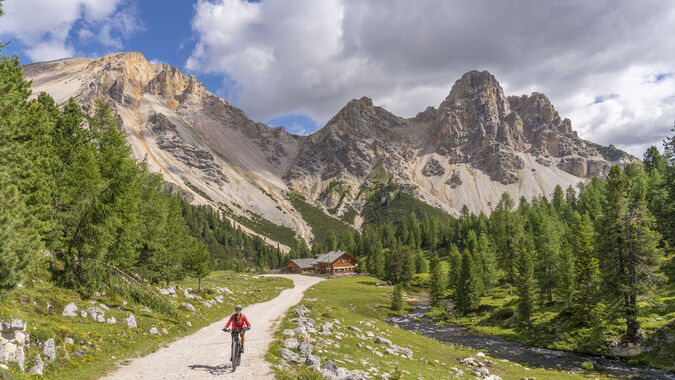 Day 5
Fanes - Fodara Vedla
Today is another spectacular ride, all within the Fanes-Senes-Braies Natural Park. Shortly after we begin riding, we'll pass alongside a small turquoise-high alpine lake set in a saddle. You'll then descend towards the Ampezzo Valley to see the Fanes waterfalls. From here, we'll start a climb towards the woods of the Val di Gotres until we reach the pastures of Forcella Lerosa, which offers a stunning view of the Croda Rossa mountain. Continue your bike tour to reach the mountain hut for the night.
5 hours biking, 33km / 21 miles, 1,500m/ 4,921' elevation change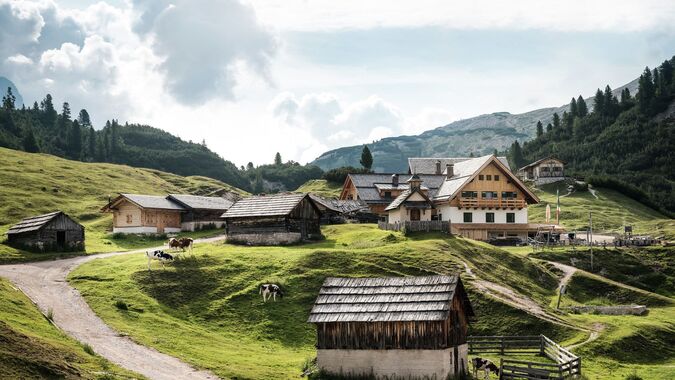 Day 6
Sennes - Cortina d'Ampezzo - Passo Staulanza
On today's biking tour, you will reach the charming town of Cortina d'Ampezzo, which is indeed the host of the 1956 Winter Olympics and is a popular ski and summer resort that offers various social activities, shopping, and dining options. You'll bike up to Rifugio Croda da Lago, which presents spectacular views of the Ampezzo Valley and the surrounding peaks. From there, you'll ride to the feet of the Pelmo massive, where you'll rest for the night."
5,30 hours biking, 42km / 26 miles, 1,500m/ 5,249' elevation change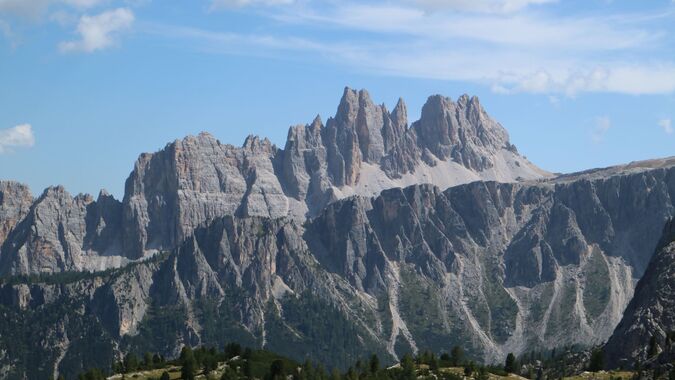 Day 7
Passo Staulanza – Fodom
Today cycle on the "Strada della Vena" to the old Andraz Castle, built here in 1027, is one of the most ancient castles in the Dolomites. Constructed atop a great landslide, it was intended to defend the foundries and the road along which the iron dug out of the mines of Mount Pore was transported. The quality of this iron was excellent and it was used for manufacturing fine swords which were exported all over Europe.
5 hours biking, 35km / 22 miles, 1,300m/ 5,265' elevation change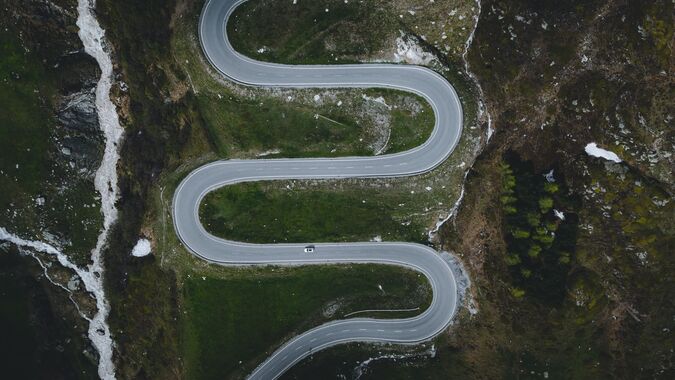 Day 8
Departure
After enjoying a final breakfast in the Dolomites, it's time to depart and say goodbye to this stunning region.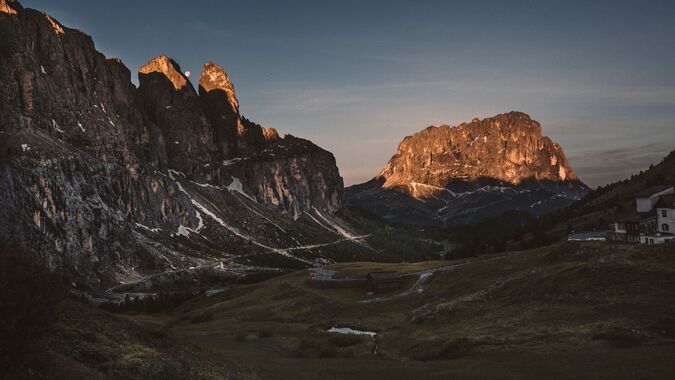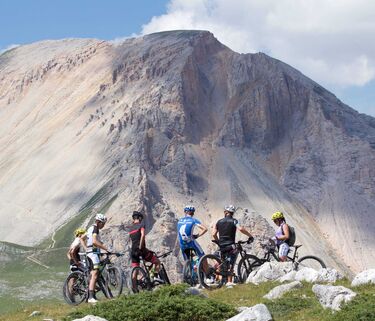 Cost included
Trip development and booking of services
Trip briefing on arrival day
3-night accommodation in a hotel in Alta Badia with half-board
3-night accommodation in mountain inns (private rooms/dormitories, depending on availability) with half-board
Local English-speaking professional bike guide for 6 guided days
Luggage transfer on days 4 & 5
Maps of the area
Italian VAT & tourist taxes
Cost not included
Airfare, trains, busses, in/out private airport transfers, insurances, drinks, lunches, food & beverage during the excursions, bike rental, funicular/cable, tips, private expenses, souvenirs, bike rental, and anything NOT mentioned in "costs included".
Additional information
Please note, that all guided tours may be subject to changes, depending on:
weather conditions
the physical condition of each participant
equipment and clothing unsuitable for the excursion (e.g. sneakers instead of mountain boots, clothing not suited to the weather conditions.)
extreme sports are risky sports, at your own risk
the itinerary doesn't include any travel or health insurance
Activity Level: This trip is for robust, active, and experienced mountain bikers in good physical condition who enjoy cycling, have a good spirit of adventure, and a positive attitude, and are prepared to and capable of biking an average of five to seven hours a day (30-60km a day - 1,300-2,000m uphill every day)
Services on request
airport in-out transfers,
bike rental
additional luggage transfers
holiday extensions,
helicopter flights over the Dolomites
single supplements at hotels/B&B/mountain huts (if available)
From
1980€
Cost per person for a guided trip:
3 persons – starting from € 2.680,00/person
4 – 5 persons – starting from € 2.380,00/person
6 – 8 persons – starting from € 1.980,00/person
Find similar travels in the Dolomites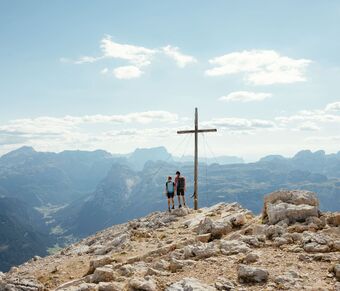 A challenge a day, drives fear away!
Extreme Active Challenge Tour
Break free of routines, and live adventure! Fly, navigate, climb, challenge limits, and rediscover instinct. The Dolomites are freedom!
Discover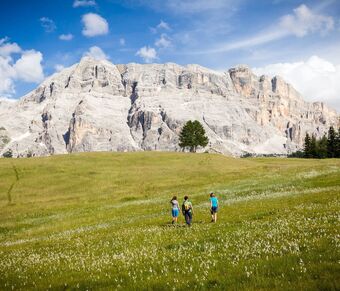 Family Adventures in the Dolomites!
Active Family Adventure in the Dolomites
The Dolomites offer the perfect setting for an adventurous, dynamic vacation, immersed in nature. Kids and families can have fun outdoors with mountain hikes, climbing, cycling tours, and tasting local specialties.
Discover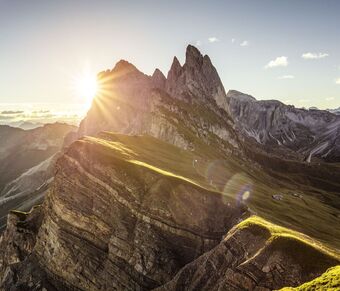 Never say 'no' to adventures!
Your Ultimate Experience in the Dolomites
In this part of northern Italy, you shall find a new perspective on life. The extraordinary blend of Italian, Ladin, and German culture is reflected in traditions, food, and culture. But above all, the mountains and lakes will delight your eyes.
Discover